It is the sweetest moment when you realize that the only reason we have for true
hope is in the Lord!
What a powerful thought- without Him as our savior, there is no such thing as hope.
In every way, we have hope only in the Lord because of His love and graciousness...
and because by him, we can have hope in all areas of our lives... whether
it be hope for the future, our families, our walk and faith, or for something very specific.
What a blessing to have the blanket of hope wrapped around us by God
as we follow Him and put our trust in Him. In Him, we can hope
and pray. He is the source of all hope.
It is a gift to know this.
And as is true with the world, we can rest in God with
the secure feeling and faith that there is no better source of hope!
Psalm 71: 14
"But as for me, I will always have hope;
I will praise you more and more."
. . .
Joy from Doodlebug hosts Faithful Fridays! You can read her wonderful post and
enjoy her blog by clicking
here
, as well as link up!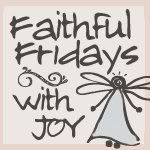 Hoping you have a joyful and
beautiful weekend!!
♥