Happy Thursday!
It is a "freeze day" here and school is canceled.
That has made my day! :)
Recently, my friend
Kalin
from the faith-inspiring blog,
Thank you, Kalin, for thinking of me and so excited to get to
be a part of this blog party and answer some fun questions!
This involves seven questions and ten tags.
Here we go!
1. Tell me about someone you love, and why.
I love my family and friends who are like family with all my heart, but more than any one person in the universe, I love God and Jesus. I love God because without Him and without what He did for me and you, my life would be meaningless. I fall in love with God more and more each day and He is the constant thread that runs through my life, challenging my thoughts and my heart and my character everyday. I love the Lord so much because of how beautiful and cherished it is to me to know that He loves me when He doesn't have to.
If I had to choose someone "earthly" I still can't pick just one person- I would say my Mama & Daddy because they are my biggest supporters and have invested in and loved me so much all these years and continue to.
2. What is one thing you do that makes you feel like, "man, I could do this forever," when you do it?
Crafting, writing, photography... Oh, there are so many things, but I would have to say, although it isn't really something you do for a hobby on a daily basis, something I feel that I could do forever without getting tired of it is traveling and seeing new things. Seeing the glorious beauty of the land and creation around me gets me so excited and I look forward to every chance I get to go on trips and adventure to different places, whether they are states or hours away.
3. What do you love about yourself?
This is kind of a question where you have to take a moment to think about your character, which is humbling. I think that I most love that I am loyal, family-focused, compassionate toward others and kind, that I try my best to live the way I know God would want me to (but most of all, I am thankful for having that instilled in my heart!), and that I am dedicated and diligent in getting things done and reaching my goals.
4. What advice would you give someone who doesn't believe they are beautiful?
I would tell them that their worth is not found in the eyes of themselves or those around them who may be telling them they are not beautiful, but instead in God's eyes. And absolutely no other opinion matters even a fraction of what God's opinion does. I would also tell them that God created you, and He does not make mistakes.
5. What is the best piece of advice you've ever gotten about confidence?
The most helpful piece of advice that I have received about confidence is that being confident is, first of all, not about being boastful but about holding your head high in the sense that you know you can accomplish what you set your mind to, and secondly that you are more beautiful when you are confident. Even more importantly, you feel more beautiful when you are confident. Beautiful not just physically, but in soul and mind. I think that advice about the first thing has helped me so much in doing things I have been afraid to do, allowing me to go up and give speeches and presentations or be open even as a shy person. Telling myself that I will be able to get through and do something that goes outside my comfort zone has helped me immensely in being able to do just that.
6. If you were your own daughter, what advice would you give yourself?
Something I would find most important to share with her would be to keep her focus on what truly matters in life- faith, family, and serving others- instead of petty things that can easily fog our vision when it comes to what we value in life, or how we see ourselves.
7. A verse, poem, sonnet, ancient-old proverb that inspires you to love yourself/others?
I love poetry so much, but honestly cannot find just one poem that I want to share for this because love in poetry is such an expanse of expression. I did find a well-known verse, though, that to me seems to be the best inspiration to love others because it not only tells us to love others, but it tells us how. I love that we have these beautiful reminders within this verse to love one another in the most meaningful ways...
What lovely questions! These were so fun to answer :)
Now for the seven tags... I've been thinking about it while I was writing, and there are way more than seven girls and ladies that I would want to tag, so I am tagging anyone who is subscribed to my blog, who reads it, or who just stumbled on this post and might have enjoyed it or been inspired to do it! I would love to read your answers if you do!
. . .
One last thing to mention in this post...
I cannot believe it, but two days ago (I'm just a couple of days late) marked three years that I have been writing on my blog!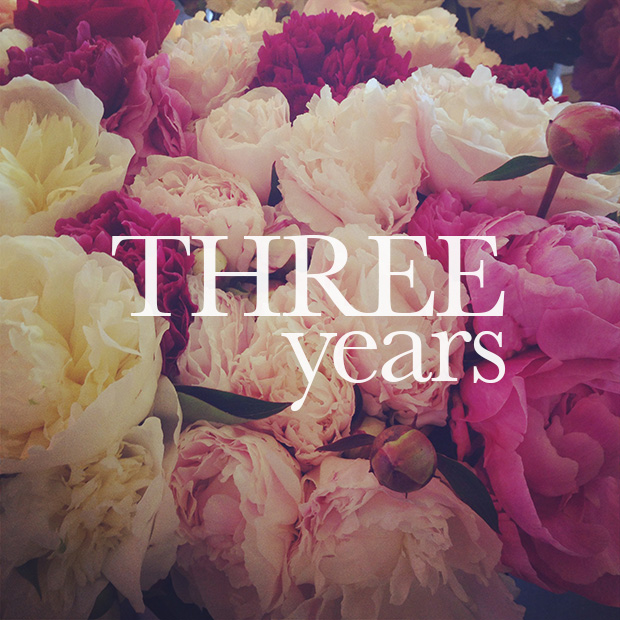 THREE YEARS!!?!? ...It seems like I just started. I can't even tell you how much I have loved it. Writing is something I never get tired of doing when it means sharing things that I am inspired by, that I think can inspire and up-build others who may read here or come across my blog, or that gives me a chance to ponder the beauty of life and the things that bring me so much joy. It is so much fun to get to write about these things and I know that doing so has made me look at life as so much more amazingly beautiful than I ever saw it. Writing about faith, family, recipes, projects and creating, and my love for Southern culture is so close to my heart and I am so happy to get to have done that here for three years now.
But beyond all of that, my most favorite part of all is YOU! Connecting with the sweetest, most genuine girls and ladies who have reached out their kindness and become dear friends is the greatest blessing! I am so glad I started blogging because if I had not, I never would have found the blogs of you who are all so wonderful and such inspiring examples of loving God and others. It has also been so meaningful to receive emails with the greatest expressions of kindness, as well as those that have told me that something I've shared about my walk encouraged them. That means so much to me.
I am so thankful ♥
God bless you!
I hope y'all have a wonderful day!!